Ghost of racing's past, Calumet Farm very much alive for Derby 143
May 01, 2017
Vance Hanson/Brisnet.com
It lies on one of Lexington's major thoroughfares and beside iconic Keeneland Race Course, but even without the advantages of geography Calumet Farm would never be far from the subconscious of first-time visitors or long-time residents of Central Kentucky's bluegrass. From its days at the pinnacle of the racing and breeding world, through its various and not always successful revivals, and in its many years of uncertain solitude, it has never relinquished its image as the idyllic Thoroughbred farm.
More than ever in an era of limited public access and with a billionaire proprietor that eschews the limelight, a mystique surrounds Calumet. However, a recent visit to the beloved nursery showed that, beyond its famous main entrance, its genteel qualities — red-trimmed barns and structures, sycamore-lined driveway, and sloping, white-bordered paddocks — are all well-preserved.
Calumet's historic reputation as a producer of good, fast racehorses is also resurgent. Under the direction of Brad Kelley, Calumet has made a fitting comeback in time for this year's Kentucky Derby, the country's signature race and one the farm once dominated like no other. It will be represented Saturday by Sunland Derby winner Hence, TwinSpires.com Louisiana Derby runner-up Patch, and the graded stakes-placed maiden Sonneteer, all homebreds.
'Anytime you have a Derby entrant it feels good. With that said it is quite special to have homebreds because so many employees on the farm are involved,' Calumet general manager Eddie Kane said. 'It is a true team effort. Our team from foaling to yearling prep and onward takes a great deal of pride in raising horses and to have these horses in the Derby is testament to their hard work.'
Calumet's last participant in the Derby, and the first after Kelley's purchase of the farm, was Oxbow in 2013. A $250,000 auction buy as a yearling, Oxbow finished sixth in the Derby over a sloppy track after breaking from the dreaded post position 1. Two weeks later he rebounded to upset the Preakness at odds of 15-1, thus delivering the farm its first classic win since 1968.
'We felt Oxbow had a serious shot of winning and we feel the same about this crop,' Kane said. 'This year we just have more chances!'
Even with the passage of nearly a half-century since its last Kentucky Derby victory, the Calumet name remains a cornerstone of the race's history. Under the farm banner and in its famed colors of devil red and blue, Warren Wright and later his widow, Lucille Wright Markey, won the race a record eight times. Perhaps more astonishing is that their strike rate was a remarkable 50 percent. From 1935 until Mrs. Markey's death in 1982, Calumet had at least one entrant in only 16 Derbies.
Most of the farm's Derby winners and participants, plus a wide assortment of noted broodmares and other champions rest, or are memorialized, in Calumet's cemetery. It's a tranquil, manicured spot for quiet reflection on what was for a generation the biggest name in American racing, the sport's equivalent of the New York Yankees. The names on the gravestones show the farm had a roster to back up such an analogy.
A monument to the farm's eight Derby winners immediately greets a visitor entering the grounds, with Alydar, arguably Calumet's best colt not to have had his name etched on it, resting off to the side under a protective tree.
Just beyond, the grave and statue of Bull Lea, Calumet's foundation stallion and patriarch to many of its notable homebreds, is the centerpiece of a circular row of markers inscribed with the names of his best sons and daughters.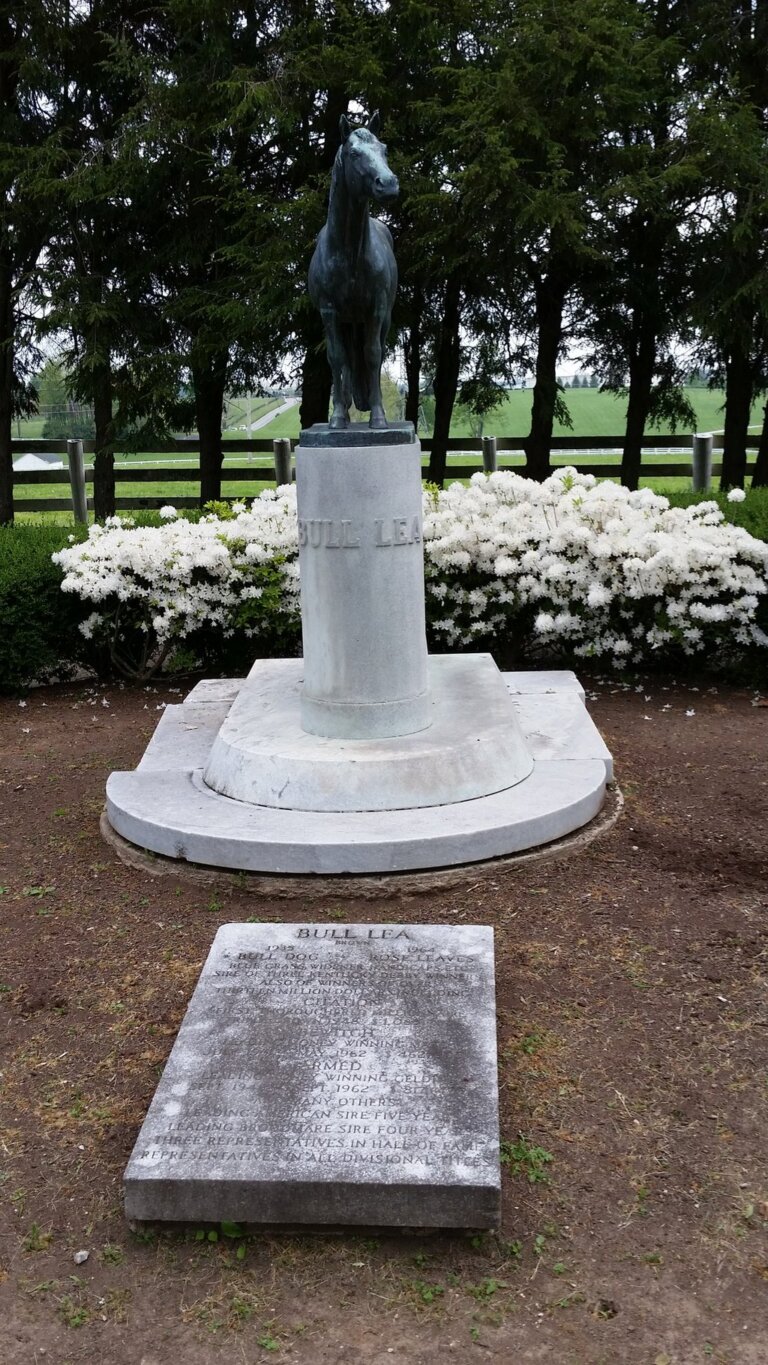 Underneath the watchful eyes of the statue lie the remains of, arguably, Calumet's most prominent wearer of the Derby roses, Triple Crown winner Citation, as well as other stones and cenotaphs of most of their other Derby heroes.
It's one of the great ironies that Calumet's great success, and initial steady decline, can both be traced to Bull Lea. In him, the farm had a powerhouse stallion that sired champion upon champion, fillies as well as males. What he did not become was a 'sire of sires.' Classic-winning or champion sons such as Citation, Coaltown, Faultless, Hill Gail, and Iron Liege proved to be only modest stallions. Some wound up overseas.
Calumet's famed runners from other sire lines, such as Whirlaway, Pensive, Ponder, Barbizon, and Tim Tam, also did not become breed-changing stallions. Not until Alydar, a son of the Spendthrift Farm-based Raise a Native, would Calumet's luck in the stallion game change for the better in the 1980s, but only briefly.
A Wild Ride, a prominent book by Ann Hagedorn Auerbach, documented the premature, controversial death of Alydar and the farm's subsequent financial unraveling and bankruptcy. Two decades of low-profile stewardship of Calumet by Henryk de Kwiatkowski and his heirs followed, with Kelley assuming control of the farm in 2012.
Long gone are the devil red and blue silks, replaced with Kelley's black with gold chevrons. The look may be different, but the dedication and goal of returning Calumet to the top has finally returned for the 21st century.
'It is a special place and we obviously take great responsibility in the farm's name,' Kane said. 'There are so many special places on the farm. Perhaps knowing the history of the farm and the champions that came off of it is the most special. Then looking at a foal or yearling in the field and wondering if they could be the next Calumet champion is what can give you the chills.'
There may indeed be chills, but a return to the Kentucky Derby winner's circle by Calumet would also sure to make warm the hearts of all Kentucky blue bloods.
(Photos by Vance Hanson)
Ticket Info

Sign up for race updates and more
FOLLOW FOR UPDATES AND EXCLUSIVES